Sailing Into a New Career
Submitted by Greg D'Anna. Article from Pima JTED Newsletter.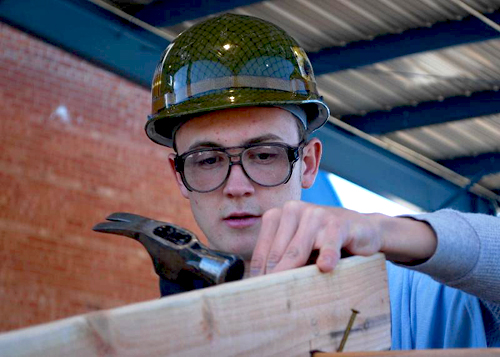 Jacob Hernandez, a Santa Rita High School senior, has nailed down a career plan thanks to his construction instructor Chuck Gallagher. Hernandez has joined the Navy and plans to become a Seabee, so that he can continue working in construction and serve our country. His mom, Katie Hernandez, says that her son picked up more than hammer and saw, he also picked up amazing leadership skills. Hernandez came to watch her son compete in the recent SkillsUSA Region 6 competition, where his four-person team won second place.
"This program is wonderful, it's unsurpassed, and the motivation that Chuck Gallagher gives his students is phenomenal," she says. Jacob took Automotive Technologies his freshman year, but decided that wasn't his thing. He switched to the Construction Program his Sophomore year, and has never looked back.
"He sees that he has real talent, he loves what he is doing, and there is no end in sight as to where he can go," says Gallagher. "This program has given him a vision of the direction to go to, and that's one of the great things about Career and Technical Education – when the kids get hooked, they just go, go, go."