Dear ACTEAZ Members,
Every new school year is a new beginning, a time of hope, new ideas and unknown opportunities for all of our educators and students for the upcoming year.  ACTEAZ is committed to working with our members to explore and highlight those ideas and opportunities.  We continue to work hard to create opportunities for our members through professional development, awards and scholarship programs, student contests and the various partnerships we have.
The 2015 ACTE Summer Conference was a huge success and "I am CTE" joined us to launch its campaign while giving away "I am CTE" t-shirts to every attendee. The excitement that this message brought to our 40th anniversary was extraordinary.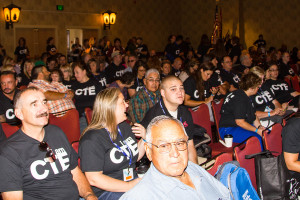 We continue to be committed to helping educators be the best that they can be by providing outstanding professional development through the Premier Program Series.  Our goal is to help teacher stay in the profession by ensuring they have the skill needed to manage the everyday classroom and by making it easier to transition from a provisional to a standard certification. We continuously look to improve our courses and offerings. Our partnership with the Leadership Continuum provides a great resource not only for teachers through the Premier Series, but the Administrator Series and the Ambassador Series.
We are most powerful when we stand together. I would like to encourage you to reach out to your community members and legislators and invite them to visit your program, join your affiliate, join ACTEAZ and walk with all of us as we strive towards a stronger CTE future. Most importantly, share your CTE stories with us at [email protected] so we can help spread the word. WE ARE CTE!
Finally, I would like to thank our members; we are the organization we are because of you.  So many of you devote extra hours to CTE through your schools, districts and affiliate associations.  I want you to know that we appreciate you and have the utmost respect for you. I am honored to serve you this year as the ACTEAZ President and look forward to working with you throughout the 2015-2016 year.
Sincerely,
Lisa Doll