Peoria High FFA Student Combines Passions for Teaching and Wildlife
Submitted by Adriana Parsons.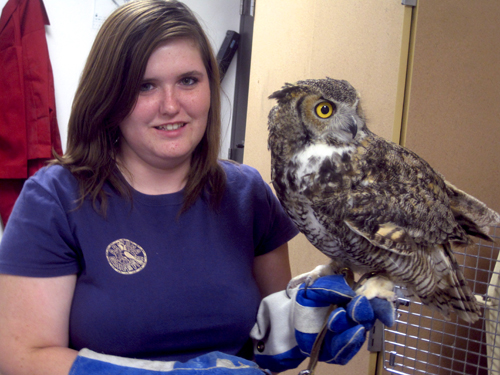 Peoria FFA senior Ashley Stevens took first place in the Agricultural Education Career Development Event at the Black Canyon FFA District contest on April 17. By winning the district contest, the Peoria High senior qualified to compete at the State Contest which will be held at the Arizona FFA State Leadership Conference in Tucson in June.
The Agricultural Education CDE consists of five parts: classroom instruction, laboratory instruction practicum, FFA advising, supervision of students, and a test over teaching principles and pedagogical practices. The contest is designed to test students on experiences that most high school agriculture teachers face on a regular basis. Competitors video tape themselves teaching lessons to real classes of students prior to contest. They then prepare short lessons to be taught to judges who play the part of students.
This is Stevens's second time qualifying for state in Ag Ed and she is excited for the opportunity. As a junior she took teacher education classes, and she has been teaching at Peoria Elementary through an externship for the past two years.
Stevens is also passionate about animals and their habitats. For the past year and a half she has worked at the Adobe Mountain Wildlife Center with the Arizona Game and Fish.
Stevens combined her passions for wildlife and teaching by developing a teaching lesson about owl habitats and food sources for Peoria High students. She brought a live great horned owl to class to help students understand the size and majesty of the birds. She also shared a set of owl pellets for the students to dissect and study. Studying owl pellets can tell biologists a great deal about the food sources, health, and habitat of owls.
The Arizona Association FFA (formerly Future Farmers of America) is a Career and Technical Student Organization providing students with premier leadership, personal growth, and career success through Agricultural Education since 1929. The Peoria Agricultural Education Program and FFA Chapter are supported by the Peoria Unified School District and Western Maricopa Education Center (West-MEC).