N.A.T.I.V.E. Grand Opening of New Central Campus
Submitted by Karen Lesher.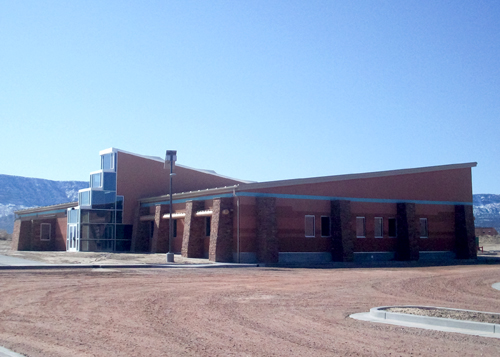 N.A.T.I.V.E. District is holding its Grand Opening for Phase One of its new Central Campus facility located in Kayenta AZ, on April 26, 2012. A program will include Margaret Yazzie, Governing Board President; Ron Lee, Native Policy Group; and the Honorable Jonathan Hale, Navajo Nation Council Delegate and Health, Education/ Human Services Committee Chair. Ted Goodluck, CTE Director from Sanders USD, will be the Emcee for the event. About 200-300 are expected to attend.
The N.A.T.I.V.E. District Central Campus has focused on building an energy efficient facility, with solar parking lot lights, and 140 solar panels to be installed on Building B for supplemental electricity. Alternative energy and renewable energy career training will be offered at the site beginning in August. N.A.T.I.V.E. District Central Campus was recognized as the first building in the United States to be built meeting the guidelines of the International Green Construction Code (IGCC) and will be receiving a plaque commemorating the achievement.
Other CTE programs to be offered through the Central Program facility include Hospitality, Multimedia Technologies, Graphic Communications, Health Services, and Electrical and Power Transmission Technologies.
Frankie J. Gilmore is the CTE Coordinator and Ronlye Tsosie is the school Principal.