CAVIT Receives A+ Award
Submitted by Mike Glover. Article by Marc David, Coolidge Examiner.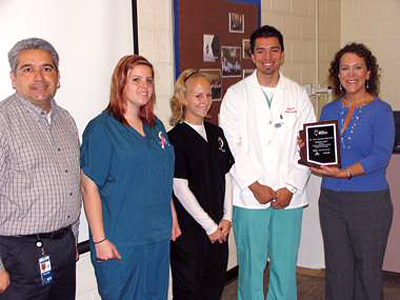 Think technical schools are merely stations for those students who do not have their minds set on four-year colleges? Think again. The A+ Exemplary Program award was given to just five schools in Arizona. One of them was Central Arizona Valley Institute of Technology. CAVIT received the prestigious award sponsored by the Arizona Educational Foundation (AEF) for its three wellness clinics – massage spa, animal and day spa and healthcare screening. Eighty-five advanced students and instructors were present March 20 at an AEF presentation in the multipurpose room on campus.
"I am amazed at the things they are doing here," said Renee Lavin of Intel, an AEF board member. "We are hoping some of the programs can be replicated to schools similar to this." Those words and others by Richard Rosales of APS, another AEF board member, were music to superintendent Mike Glover's ears. He noted, "I am excited that CAVIT was recognized for this award. We worked hard to achieve this." CAVIT will add a fourth wellness clinic next year. A dental assistant program will be offered through CAVIT's dental clinic. Glover noted that CAVIT has applied for the AEF's A+ School of Excellence Award. The school was visited on March 6 and notified that it made the finals. The announcement of the overall winner will come in late April.
It is not just the business community, administration and instructors that took joy in the recognition. "It is heartwarming that CAVIT got recognized for this award," said Jorge Santana, a senior ambassador for the healthcare screening clinic. "It recognizes that we are over-achieving. It is satisfying knowing you are going to a facility that is well connected with the community, one that gives you an opportunity to work with specialized skills. People skills come into it. Personally, I am happy to give to the community for giving me a chance. They opened this program for us. It is great to be in a program where you are able to gain skills for what you want to do in your life."