Arizona SciTech Festival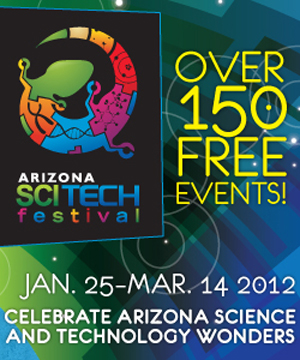 What is it?
The Arizona Scitech Festival showcases Arizona as a national leader in science, technology and innovation with over 200 free events taking place state-wide between January 25 and March 14, 2012. Spearheaded by the Arizona Technology Council Foundation in partnership with Arizona State University and Arizona Science Center, the Arizona SciTech Festival is a grass roots collaboration of over 200 organizations in industry, academia, arts, community and K-12, geared to excite and inform Arizonans ages three to 103 about how science, technology and innovation will drive our state for the next 100 years. With such a diverse set of hands-on activities, stunning exhibitions, exciting workshops, thought provoking discussions and unforgettable tours; all at diverse locations through the state, there is something for everyone!
How can I participate?
Visit the Arizona SciTech Festival website for more information including a calendar of events, program guide and marketing materials.  We encourage you to celebrate CTE and schedule some time to visit the Arizona SciTech Festival and support our communities efforts in all that is Science, Technology and Education.