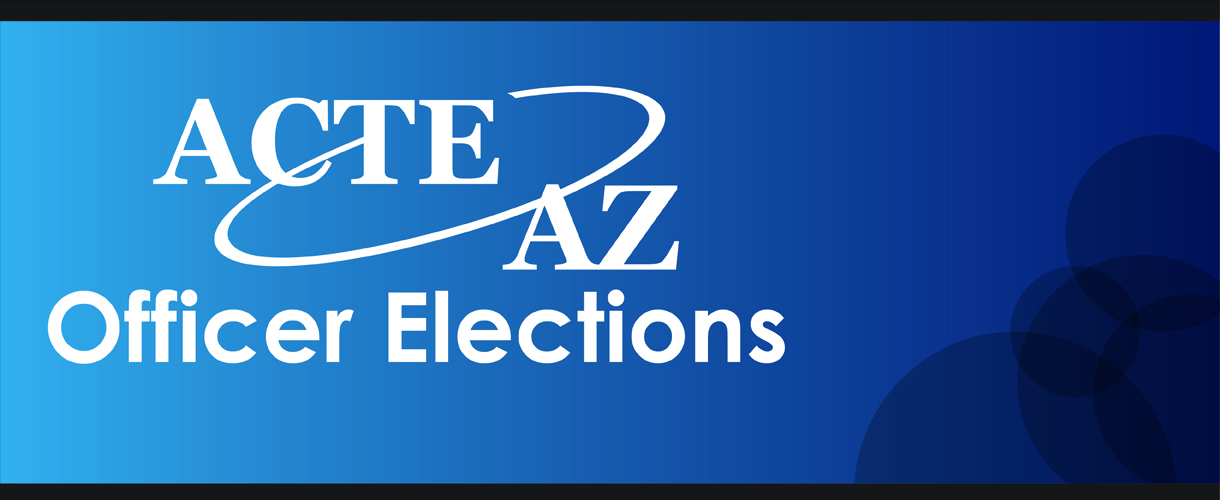 ---
2023 ACTEAZ Officer Candidates and Voting Info
Submitted by ACTEAZ Executive Board
---
Elections are being held for the following officer positions:
President Elect
Vice President
Secretary
Member-At-Large
Voting is online and will open on May 3, 2023 and ends on May 17, 2023.
If you are an ACTEAZ member, you will receive voting instructions via e-mail from [email protected]. Please also check your spam/junk folders for this email.
ACTEAZ would like to encourage and thank our members for participating in the upcoming election. Below are the candidates who applied for each position.
---
Stephen Weltsch - Platform Statement, President-Elect
I am eager to share my platform to serve as the ACTEAZ President-Elect. I am an educational leader with 27 years of experience in Career and Technical Education, including multiple district leadership roles and executive officer positions with ACTEAZ and NCLA.
As a former CTE student, I know firsthand the power of education that provides hands-on learning experiences. Completing a high school accounting program at Glendale High School allowed me to overcome learning challenges and grow confidence in my academic abilities. The embedded leadership training provided by CTE increased my communication skills and problem-solving power. The rich, work­based learning opportunities nurtured a professional network and allowed me to develop career-ready skills. Most importantly, CTE opened my eyes to see beyond my current reality to what could be.
The CTE Delivery Model is the premier learning system, providing an environment for all students to learn through meaningful and relevant experiences. CTE strengthens student achievement, promotes post-secondary connections, and purposefully develops communities.
Arizona's key industries are growing unprecedentedly and moving quickly to adapt hiring practices emphasizing skills and credentials. CTE instills leadership traits, professional skills, and motivation to achieve economic independence, permitting all individuals to pursue their version of the American Dream. I will help ACTEAZ leverage the power of CTE by establishing the following priorities:
Member Support -To support CTE teachers by strengthening the Premier Series and teacher networking opportunities.
Advocacy -To promote focused statewide advocacy, including efforts to reinforce business & industry connections.
Leadership Development - To intentionally develop leaders through Affiliate support and to design a leadership series.
I seek to serve as President-Elect to keep ACTEAZ forward-thinking in supporting teachers and to lead ACTEAZ in solving today's complicated Arizona workforce needs and skills gaps. As a united group, we will continue to make a difference for the students.
Patrick Clawson - Platform Statement, Vice President
As I announce my candidacy for Vice President of the Arizona Career and Technical Education Association, I would like to share my platform statement and why I am an excellent candidate for this role.
As a passionate advocate for career and technical education, I wholeheartedly believe in the mission of the Arizona Career and Technical Education Association. I understand that CTE is a vital component of education, and it has the potential to transform lives by providing individuals with the necessary skills and knowledge to pursue meaningful careers.
Advocating for CTE has become even more critical in today's challenging times. We must ensure that CTE programs are adequately funded, and students have access to quality education, training, and resources to succeed in their chosen fields. As Vice President, I will earnestly work to promote and advance the interests of CTE across Arizona. I will also lead the effort to expand and enrich Career and Technical Student Organizations, as I sincerely believe that CTSOs and leadership experiences are foundational to our uniqueness and collective identity in the public education space.
My vision is to collaborate with educators, policymakers, and business leaders to develop strategies supporting CTE's growth and success. I believe in fostering partnerships between CTE programs and the industry to create a pipeline for high-demand careers. Furthermore, my experience as a member and leader in our state's Air National Guard has given me a unique lens to view service, training, and organizational partnerships. I will work to expand CTE programs in underserved communities, promote the adoption of innovative technologies, and support professional development opportunities for educators.
As an experienced leader with a deep understanding of the challenges and opportunities in CTE, I possess the skills and qualities needed to be an effective Vice President of the Arizona Career and Technical Education Association. I believe in quality teacher education and continuing training to ensure the best learning experiences for students from every corner of Arizona, regardless of socioeconomic background or geographic location.
I would be honored to be considered as a candidate for the position of Vice President of the Arizona Career and Technical Education Association. I look forward to the opportunity to serve the association and its members.
Cathie Raymond - Platform Statement, Vice President
I would like to serve as the Vice-President of ACTEAZ. CTE is my passion and my desire to remain connected to CTE through ACTEAZ office is a goal I hope to achieve. I have been involved in CTE as a teacher, local CTE Director, and recently as the State CTE Director for 6 years. During my time at ADE I collaborated with local CTE directors statewide, CTEDs, and community colleges. I previously served as ACTEAZ Vice-President and President -Elect. At ADE I served on the ACTEAZ Board and collaborated with ACTEAZ to develop the Summer Conference sessions. CTE is my passion and my desire to remain connected to CTE through ACTEAZ office is a goal I hope to achieve. Providing quality professional development through ACTEAZ to the teachers, administrators, and community colleges is the power of ACTEAZ and I would like to continue to assist in providing that professional development.
Patti Pastor - Platform Statement, Secretary
As a former CTE teacher for 17 years, I have seen the impact CTE has had on numerous students.  The hands-on techniques and critical thinking that make students shine are the heart of CTE. I have been an active member of the Association for 17 years and have participated in summer conference for 17 years.  I served as a Fellow from 2019 to 2021 and grew with the organization tremendously. For the last two years, it has been my pleasure to serve as Member-At-Large for the Association of Career & Technical Education Arizona.  This term has allowed me to learn, grow professionally, and champion for greater involvement in our professional organization in the northern part of the state.  The benefits to Flagstaff and the surrounding area have been numerous, and I am proud of the knowledge I have shared with teachers, administrators, and the community at large.   I am accessible to all and do not miss an opportunity to recruit members to ACTEAZ.  
I would like to continue serving the executive board as secretary and advocating for CTE.  I have been a passionate CTE advocate for 18 years, and I enjoy working to promote something that is near and dear to my heart. I hope that I earn your vote!  
Michelle Bohon - Platform Statement, Member at Large
This is my year to become more involved with ACTEAZ and participate as an elected officer. I am interested in the office of Member at Large to advocate for Career Technical Education (CTE) at the state level. I have been involved with CTE as a School Counselor and a parent for many years. My leadership skills have evolved as a confident communicator and strong advocate for students. As a tenured School Counselor, I believe that my skills and experiences will contribute to the association. I will be dedicated to the association by attending meetings, advocating for CTE and communicating the importance of education. I have continued to be involved in the Fellowship. As a Fellow, I have grown as an educator, established many relationships and traveled with coworkers for some great professional development opportunities. I look forward to many more opportunities.
As you decide if I will be good addition to the association, please consider the many years that I have dedicated myself to ACTEAZ. I will continue to advocate, communicate and collaborate with districts, communities and state legislators. You will have no reservations if you decide to nominate me for the Member at Large candidate.