ACTEAZ News
ACTEAZ Newsletter
ACTEAZ Newsletter – Issue 7, May 2023
The ACTEAZ Newsletter is sent on or around the 15th of each month to ACTEAZ members. Becoming a member is free! Click here to register.
---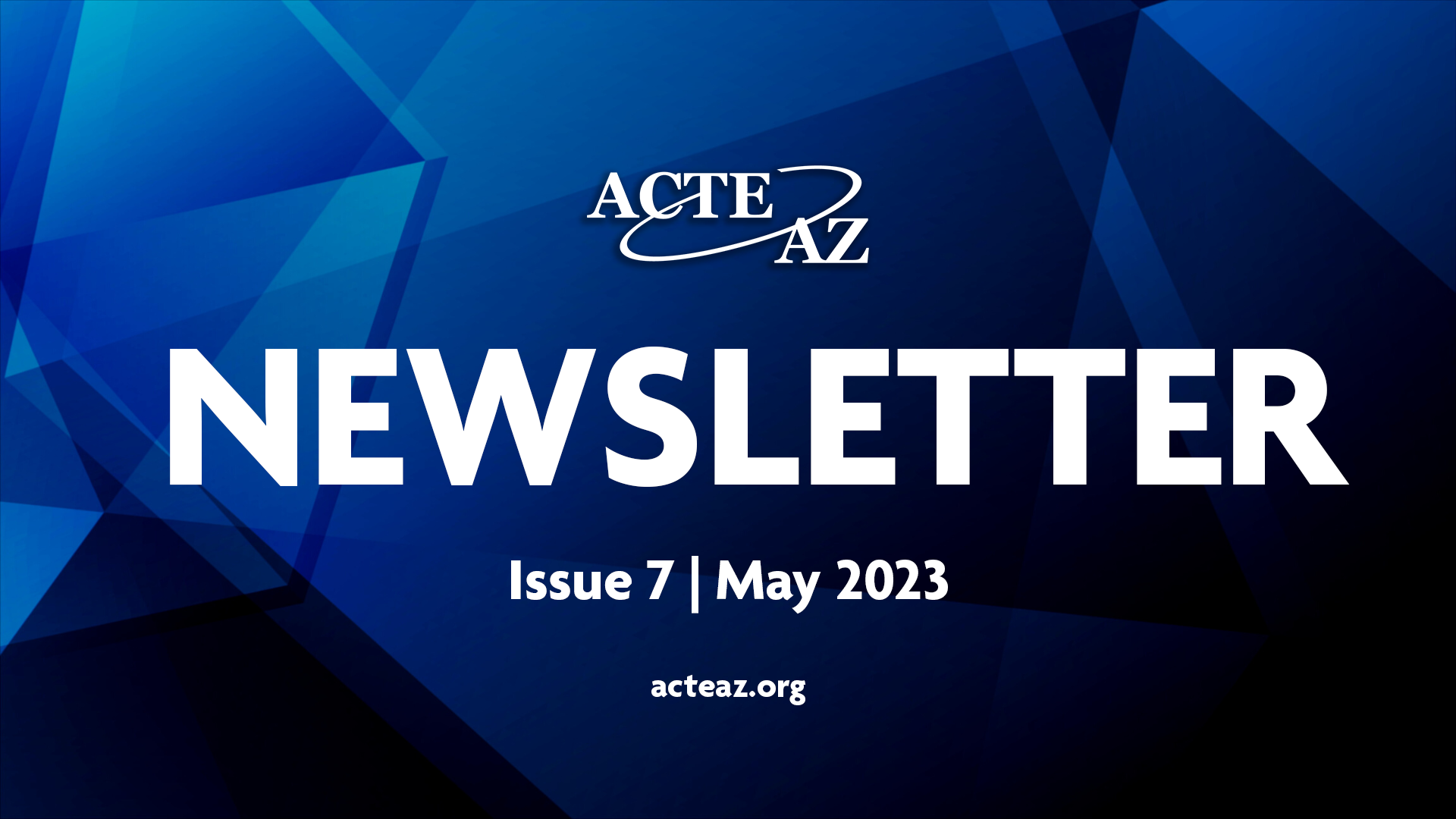 Congratulations, Region V Award Winners!
We would like to recognize everyone who won awards at this year's ACTE Region V conference.
Kristina Guy (West-MEC) – Counseling and Career Development Award
Justin Brereton (Yavapai College) – Postsecondary Teacher of the Year Award
ACTEAZ – Website Award
Kristina and Justin will both compete for national awards at the ACTE CareerTech VISION conference, which takes place Nov. 29 – Dec. 2 in Phoenix, AZ.
We would also like to recognize Basha High School's Institute of Cyber Operations and Networking (ICON) Program (Chandler Unified School District) for winning the Innovative Career and Technical Education Program Award for Arizona.
Congratulations to all the winners!

ACTEAZ Officer Elections Close May 17
2023 ACTEAZ Officer Elections close this Wednesday, May 17 at 5:00 p.m. PST.
Listed below are the candidates running for each position:
President-Elect: Stephen Weltsch
Vice President has two candidates: Patrick Clawson and Cathie Raymond
Secretary: Patti Pastor
Member at Large: Michelle Bohon
To read each person's platform statement, click here.
You will receive (or have received) voting instructions via e-mail from associationvoting.com. If you have not received this email, please check your Spam/Junk folders. If you checked your Spam/Junk folders and still have not received any voting instructions, please email [email protected].
ACTEAZ would like to thank our members for participating in the upcoming election.


ACTEAZ Fellows Applications Now Open!
Applications are now open for the 2023-2024 ACTEAZ Fellowship Program!
The ACTEAZ Fellowship Program provides members a unique insight into the workings of ACTE, ACTEAZ, and all our affiliate organizations. Those selected to become a Fellow will attend a variety of conferences and professional development events designed to increase their understanding of the policy making processes associated with career and technical education at the local, state, and national levels. Through this specialized training program, candidates develop the leadership skills to become effective members and advocates of Career and Technical Education.
The deadline to apply is August 4, 2023. To apply for the Fellows program, click here.


2023 Summer Conference Updates
Attendee Registration
Registration costs $575 through June 18. Starting June 19, the price will increase to $625.
Online registration will close June 30.
If you are unable to sign up before June 30, you will have to register onsite at Westin La Paloma during the conference. For registration dates and times, click here.
Friendly reminder: You must register for all sessions you plan to attend – even if they are free. Space is limited. There are NO walk-ins.
For more information, visit the Summer Conference website.
Sponsors
Sponsor one of the largest CTE conferences in the nation that boasts more than 1,000 attendees!
Sponsorship packages range from $500 to $5,000. Perks range from speaking at the Awards Breakfast, to promotional assets and more. All sponsors, no matter the level, will receive a virtual booth in the Whova conference app, where they can interact with attendees.
The deadline to register as a sponsor is June 1. Click here for more information.
Exhibitors
We are still seeking exhibitors for Summer Conference. Exhibit your product or service to more than 1,000 education and industry professionals!
In-person and virtual booth options are available. Virtual-only booths start at $475, and in-person booths start at $775.
All exhibitors will receive a virtual booth in the Whova conference app, where they can interact with attendees.
The deadline to register as an exhibitor is June 2. For exhibitor information, click here.


ACTE CareerTech VISION Discount for AZ Residents
Arizona residents are eligible for a special discount for the 2023 ACTE CareerTech VISION Conference, which takes place Nov. 29 – Dec. 2 in Phoenix, AZ.
Super-early bird rates will automatically apply when you enter your zip code while registering online. The super-early bird rate is $395 for ACTE members and $585 for non-members.
For more information, click here.

Premier Series
Keep your teaching certification current with Premier Series!
Remember – you only have three years to eliminate any deficiencies on your CTE teaching certificate.
Start eliminating them today by registering for Premier Series courses!

Now Scheduling Premier Series Courses for SY 2023-2024
ACTEAZ is now scheduling Premier Series courses for Q1 of the 2023-2024 school year!
If you are interested in having Premier Series classes held at your school or district, please contact Shelby Freytag at [email protected].

Job Blasts
ACTEAZ hosts a free job board and job blast for its members.
Job blasts are sent on Fridays, depending on how many job openings are received.
For information on how to submit a job listing, and to view all current job listings, click here.
UPCOMING DUE DATES
ACTEAZ Election Ends:

May 17 at 5:00 p.m. PST

Summer Conference – Sponsorships Due: June 1

Summer Conference – Exhibitor Registrations Due:

June 2

Summer Conference – Attendee Registrations

Due (Online): June 30

ACTEAZ Fellows Applications

Due: Aug. 4
EVENTS