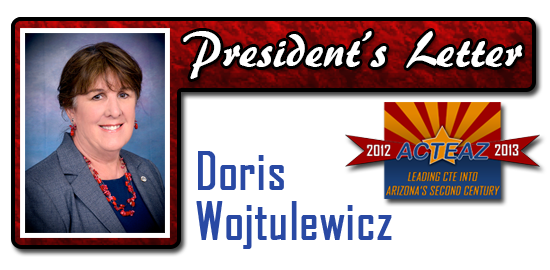 Arizona often conjures an image of dry deserts, extreme heat, and remote isolation. However, as Arizonans, we know that in reality our state is a rich tapestry of diversity built on a heritage of cowboys and copper miners, pow wows and fiestas, children and snowbirds, tradition and technology. This wonderful mix presents a unique number of challenges for our schools and for our organization.
One of the challenges to our organization is to insure that ACTEAZ remains a truly statewide organization, dedicated to both our common needs as CTE educators as well as the diverse concerns that stem from a membership that represents rural and urban areas, administrators, business partners and teachers, secondary and post-secondary institutions, growing districts and declining districts, and a myriad of other faces. If we are to be the voice for career and technical education in Arizona, it is imperative that we represent all the faces of CTE across our state. The strength of our organization depends on it, as does the ability of our organization to serve its members. To this end we have begun two of several planned statewide efforts.
The first is to visit as many of our CTE programs statewide as possible**. These visits will include not only schools in the metropolitan areas, but also school in the rural areas and the remote areas of our state. I know we have fantastic programs everywhere. I have visited several already. From Mesa to Flagstaff, it is exciting to see the impressive efforts of our teachers across the state and the impact on their students. Another great benefit of these visits is the opportunity to listen to the unique concerns and needs of their programs. Included in this effort will be not only schools, but also our community colleges, JTEDs and business partners. I am excited that, as a newly retired teacher, I am in the unique position as ACTEAZ President to have the time to travel around our state. I want to know what is happening across our state. I want to know the needs and concerns of all of our teachers, students, and stakeholders and I want those to become an everyday part of the conversations and decisions that are made by our board.
Our second statewide effort is the development and delivery of our new Premier Program. This is a professional development program directed primarily at new CTE teachers. The focus is to provide new teachers with the tools they need to navigate CTE successfully. Our first two classes, CTE Camp and Classroom Management were offered for the first time at summer conference in Tucson. They will be offered again in February in Prescott. The intention is to make these classes available across the state. Six additional classes are in the developmental stages. It is important to note that this program is in direct response to a need identified by teachers and CTE directors from across the state to help retain teachers by offering best practice support and mentoring.
It is the goal of ACTEAZ to be proactive across the state and with all of our members. To do so we must offer support in the form of professional development, leadership and support services. These are challenging times for our nation and our state, for our education system and teachers, for our economy and our workforce and we recognize that those challenges vary within our membership. However, I believe that inside our greatest challenges lie our greatest opportunities. We must be diligent in spreading the message that CTE is an integral part of the solution to every one of these challenges. We must strive to cement one common belief in the mind of every stakeholder: CTE works and ACTEAZ works.
**I would like to visit your JTED, district or school. If you would like to set up a visit, please contact me at [email protected] so we may make arrangements. I look forward to seeing you.