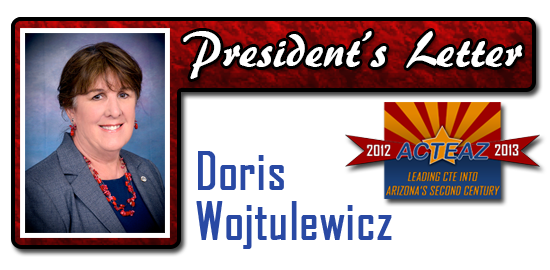 Perhaps it is because I returned home from Atlanta and ACTE Vision 2012 in the middle of the holiday season, but I find myself with two recurring thoughts. One is a feeling of thankfulness. Everyday of the conference I had the opportunity to dialogue with members and officers from other state organizations. As I listened each day, I realized how much we in Arizona have much to be thankful for. The second is that I get to be the one who brings you tidings of great joy. Here are just some of the many things ACTEAZ members have to be proud of:
Our Executive Director
Many states do not have an Executive Director, or their ED is part-time or a volunteer, or both. Not only do we have an individual giving full-time attention to the needs of our organization, but we are also fortunate that our Executive Director is so knowledgeable and so dedicated. It is amazing to see the respect she garners from so many people and organizations at so many levels. What she accomplishes on our behalf through her expertise is remarkable.
Our Assistant Executive Director
Again, expertise comes to mind. We are so far ahead of other states in the organization of our association. This did not come easily. Few understand the hours of research and hard work that have brought us to the cutting edge of association management.
ACTEAZ Board of Directors
Our Board of Directors is an amazing and comprehensive group of individuals representing the best of CTE professionalism. Unlike other states, we never have a shortage of individuals ready and willing to step up and continue the effort to improve CTE in Arizona.
Arizona's State Superintendent of Public Instruction
Superintendent Huppenthal is not only supportive of CTE; he recognizes the value of CTE to our students, and to Arizona's future workforce. While other states struggle for support from their state Department of Ed officials, ours seek to form a strong partnership with ACTEAZ in joint efforts to improve career and technical education throughout our state.
An Outstanding Fellows Program
Our Fellows program continues to be the model program for the country. It has been emulated at both the Region V and the national level. The Fellows program is dedicated to the development of strong leaders to insure the good works of our association are protected and continued well into the future.
Quality Association Award
This prestigious ACTE Award is given to state associations who have completed a rigorous review of association policies, procedures and programs. The fact that Arizona consistently wins this award year after year is validation of the quality of the continuing leadership and programs we enjoy.
Region V Leadership
Region V leadership resulted in more Region V member states winning the coveted ACTE Quality Association Award than any other Region. Region V offers mini-grants to state organizations to help with state programs to improve membership numbers and value. Region V was also the first Region to implement a Fellows program.
ACTEAZ Professional Development
The need for new professional development programs to retain teachers and develop strong leadership was the hot topic at this year's conference. I'm proud to say Arizona is way ahead of the game. Through the vision of our CTE leadership, Arizona has already developed the framework for a comprehensive program and begun to implement it statewide. Look for the next sessions to be offered in the Prescott area early next year.
Arizona's CTE Teachers and Programs
Finally, above and beyond all else is the quality of Arizona's CTE programs and teachers. I've had the unique opportunity to visit CTE programs and teachers around Arizona. I'm amazed at the expertise, dedication and innovation evident everywhere I go. Arizona CTE is the best!
Such are my glad tidings. I am indeed grateful and proud to be a part of ACTEAZ. May you have a smooth and successful end to first semester and I wish you a joyful holiday with family and friends.