Congratulations to ACTEAZ on its QAS Award!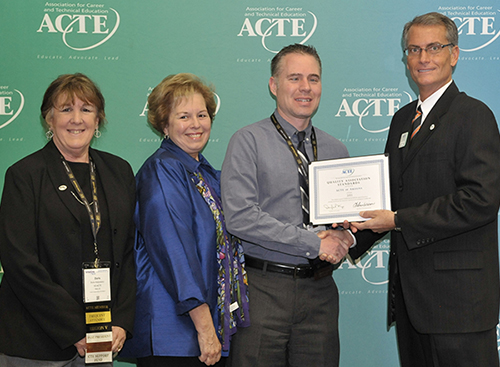 ACTEAZ has once again been awarded the Quality Association Award from the national Association for Career and Technical Education (ACTE). The award was presented at the National ACTE Conference, CareerTech VISION in Las Vegas, Nevada on Saturday, December 7, 2013 to ACTEAZ Leadership (Stephen Weltsch, ACTEAZ President, Doris Wojtulewicz, ACTEAZ Past President and Pam Ferguson, ACTEAZ Executive Director at the Awards Breakfast.
The purpose of the Quality Association Standards (QAS) is to provide benchmarks for state associations to determine levels of performance and satisfactory service to their members and prospective members. QAS should be useful to states in evaluating their basic organization and whether their leadership is providing minimum, average or superior programs for the membership.
This award also signifies a high level of service that the state association delivers to its members as well as the way in which the President and Board advocates for career and technical education in Arizona. This award shows that the association continues to strive for excellence and provides the best leadership for the state association and its members.
Congratulations to the ACTEAZ Board and all of our members for this wonderful award.