ACTEAZ News
ACTEAZ Newsletter
ACTEAZ Newsletter – Issue 3, Jan. 2023
The ACTEAZ Newsletter is sent on or around the 15th of each month to ACTEAZ members. Becoming a member is free! Click here to register.
---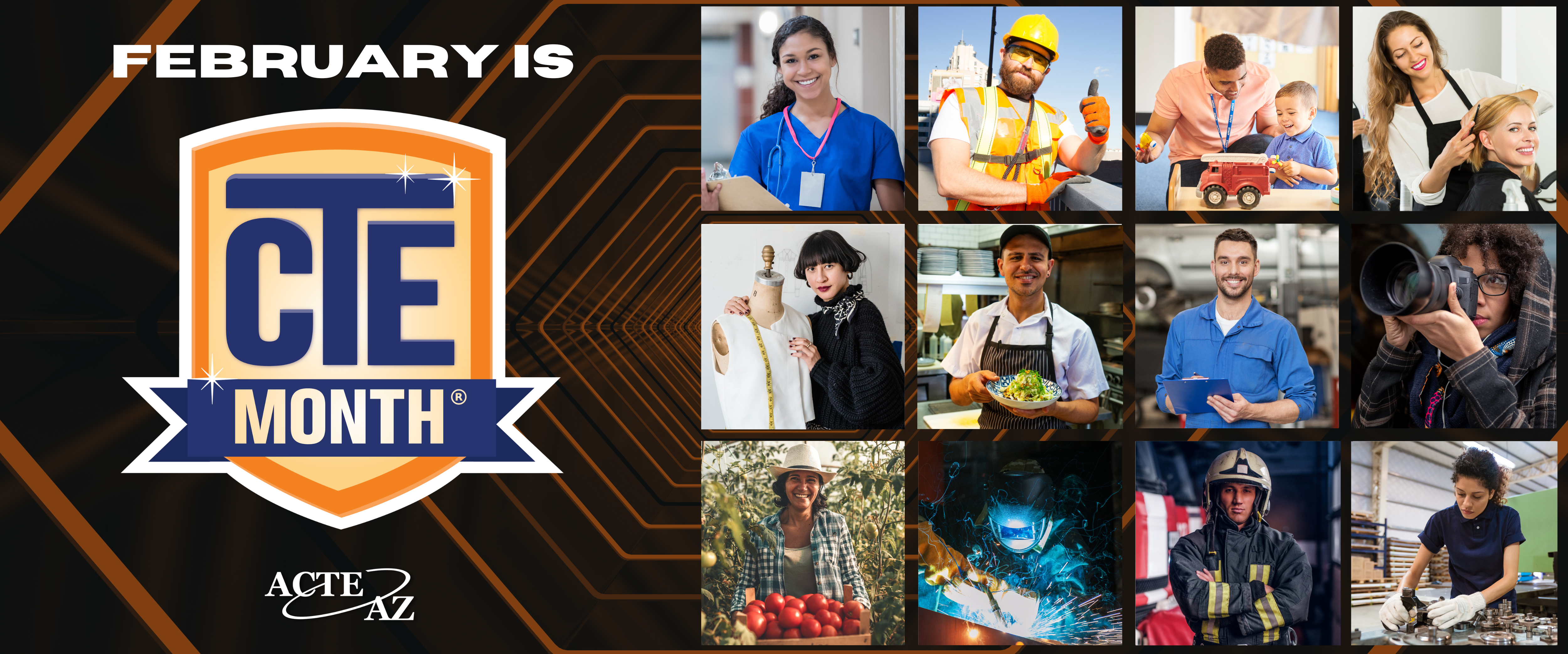 CTE Month®
February is Career and Technical Education Month®, or CTE Month®*, a public awareness campaign to promote the importance of Career and Technical Education (CTE) and celebrate its accomplishments across the country. We encourage everyone to celebrate and support their local CTE programs.
How Can I Celebrate CTE Month?
Learn about the CTE programs offered in your school district

 

Host a school visit and invite members of your local community to learn about your school's CTE programs

Download and print our

free posters, and share them on social media (use hashtag #ctemonth)

View our

 CTE Month calendar 

for more ideas on how to celebrate and promote CTE

Use

 CTE Month merchandise 

at your school

Learn more about CTE Month at

ACTE's website 

and

 ACTEAZ's website
*Please note, the "CTE Month" or "Career and Technical Education Month" must be followed by the trademark sign (®) the first time it appears in a document or visual presentation.
2023 Midwinter Conference
Exhibitor Registration Closes Friday, Jan. 20
There are only a few exhibitor booths left for the 2023 Midwinter Conference! 
All in-person booths include tables, meals, and a virtual booth in the Whova conference app. There is also a virtual-only booth option for those who cannot attend the conference in person.
Registration and payment is due Friday, Jan. 20.
Click here for more information about becoming a Midwinter exhibitor.
Overflow Hotel Information
We are excited to work once again with the Hassayampa Inn for overflow hotel rooms! 
Hotel booking information can be found here.
Scholarship Auction & Raffles
 The ACTEAZ Fellows will be hosting an in-person auction and online raffles at the Midwinter Conference to raise funds for CTE student scholarships!
The Fellows are seeking donations including student work, gift baskets, gift cards, and more! For instructions on how to deliver the items, contact [email protected]. 
The auction will take place during the Midwinter Dinner on Thursday, Feb. 2 from 6 – 8 p.m. 
Online raffles will be held throughout the day Thursday on the Whova app. You will be able to purchase tickets on the ACTEAZ website during the conference.
For the auction and raffle flyer, click here.

2023 Arizona CTE Summer Conference
Last Call for Session Proposals
The 2023 Arizona Career and Technical Education Summer Conference will be taking place July 14 – 19, 2023 at the Hilton El Conquistador and Westin La Paloma in Tucson, AZ.
Session proposals close tomorrow, Jan. 13. 
To submit a session, click here.
Exhibitor Registration Now Open
Exhibitor registration is now open! We have in-person and virtual booth options available.
Registration and payment for exhibitor booth space is due Friday, June 2.
To register as an exhibitor, click here.

ACTEAZ Awards
Submissions for the 2023 ACTEAZ Awards are now open!
Nominate your favorite CTE teacher, administrator, counselor, business partner, and/or staff member. You can even nominate yourself!
The deadline for nominations is Friday, March 17.

ACTEAZ Scholarships
Arizona high school seniors and post-secondary students are encouraged to apply for the 2023 ACTEAZ Scholarships! To be eligible for a scholarship, students must be nominated by a current ACTEAZ member. 
The scholarship amount ranges from $500 to $2,000, depending on available funds and the number of scholarships the committee agrees to award. 
Applications close Friday, March 17. To apply, click here.
For a video tutorial on the scholarship application process, click here.

ACTE Region V Conference

The ACTE Region V Conference will be taking place April 12 – 15, 2023 in Fargo, ND. 
Registration and Call for Presentations are now open!
Conference registration is $475 before March 1. Payment must be submitted to ACTE National via mail or their website (not through ACTEAZ).
For more information and to register, click here or email [email protected].
Call for Presentations closes Friday, Jan. 27. If you want to submit a session, click here.

Premier Series
Keep your teaching certification current with Premier Series!
Remember – you only have three years to eliminate any deficiencies on your CTE teaching certificate.
Start eliminating them today by registering for Premier Series courses!

Meet Kailyn Gillette, Administrative Assistant
Kailyn Gillette joined the ACTEAZ team as Administrative Assistant in March 2022.
She has a Bachelor of Science degree in Sociology from Northern Arizona University. Prior to joining ACTEAZ, she was an Office Assistant at a temporary fencing company.
Kailyn was involved in Career and Technical Education by being part of her high school's theatre program and Thespian Society.
At ACTEAZ, she handles customer service, assists with financials, and supports other members of the team with conference and course materials.
Fun Facts:
1.       She studied abroad in Scotland.
2.       She has three wonderful cats.
3.       She enjoys baking.
If you have any questions or concerns related to ACTEAZ events or PO's, please contact Kailyn at [email protected].

Job Blasts
ACTEAZ hosts a free job board and job blast for its members.
Job blasts are sent on Fridays, depending on how many job openings are received. 
For information on how to submit a job listing, and to view all current job listings, click here.
UPCOMING DUE DATES
ACTEAZ Summer Conference Session Proposals Due:

Jan. 13, 2023

ACTEAZ Midwinter Conference Exhibitor Registration Due: 

Jan. 20, 2023

ACTE Region V Session Proposals Due:

Jan. 27, 2023

ACTEAZ Award Nominations Due: March 17, 2023
ACTEAZ Scholarship Applications Due: March 17, 2023
EVENTS
Do you have Arizona CTE news or events you would like us to include in our newsletter? Email [email protected].