AZ CTE Summer Conference Call for Presentations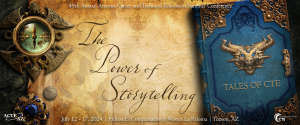 Call for Presentations is now open for the 49th Annual Arizona CTE Summer Conference!
The event will take place July 12 – 17, 2024 at the Hilton El Conquistador and Westin La Paloma in Tucson, AZ. This year's theme is The Power of Storytelling.
To submit a Session Proposal, visit this link and click the red "Submit Session Proposal" button.
The deadline to submit a session is January 10, 2024.
More information will be posted on arizonactecon.com as it becomes available.