The Premier Series is an array of courses designed to provide teachers with the skills they need to be successful as an instructor in a CTE program.

We recognize that, increasingly, CTE teachers come directly to the professional from industry without the benefit of having participated in a teacher training program.  As such they are often thrust into the profession with inadequate pedagogical preparation.  The Premier Series is designed to provide teachers with the skills they will need to successfully navigate not only the CTE classroom, but the CTE laboratory, work-based learning and CTE student organizations as well.  The courses are offered throughout the state and provide opportunities for university credit through the University of Arizona and Northern Arizona University.  Arizona Department of Education credit is also available for all courses in this series.  These credits enable a teacher to move from provisional to standard CTE certification.  This is good teacher training.
The Premier Series is offered throughout the state of Arizona. Pima JTED, West-MEC and ACTEAZ offer the training.  ACTEAZ travels to areas not served by Pima JTED and West-MEC and provides training at the ACTEAZ Summer Conference.
The Premier Program Series:
There are 25 courses in the Premier Program Series at this time. Each course is 15 hours and offers 1 ADE credit and can be used to obtain a Standard CTE Teaching Certificate.
Upon successful completion of each of the courses, the participant will have his/her choice of how credit will be awarded:
Arizona Department of Education (ADE) Certificate with Superintendent of Public Instruction Seal
This certificate will be accepted by the certification office in lieu of transcripted college credit.  It counts toward the "Professional Knowledge" coursework required to transform a "Provisional CTE Certificate" into a "Standard CTE Certificate".  There is no cost for the certificate.
College Credit
Currently the University of Arizona Agriculture Education Department will grant undergraduate credit or graduate credit.  (course title: AED 497) or graduate credit (course title: AED 597). Credit is also being offered by Northern Arizona University as graduate credit (CTE576). The cost of tuition is the responsibility of the teacher at the University level.
Professional Growth Certificate
For teachers with a Standard CTE Certificate a professional growth certificate will be issued by ACTEAZ for either 15 hours of Continuing Education or 30 hours, depending on the course. These hours count toward the 180 hours needed every 6 years for recertification.  There is no cost for the certificate.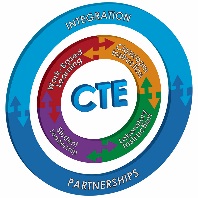 Overview
Implementation of the CTE Premier Program Delivery model supported by Professionalism and CTE Program Management are foundational elements that will ensure effective and efficient instruction for the success of all CTE students.