2023 Outstanding Affiliate Award
---
Arizona Marketing Educators (AZME)
Ginger Liddell, President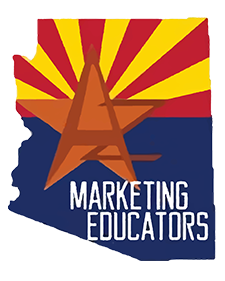 This year the ACTEAZ Affiliate of the Year goes to the Arizona Marketing Educators, also known as AZME.
AZME was created to improve communications between local Marketing programs; the Arizona Department of Education; CTE and academic personnel within all schools; professional organizations; the state institutions of higher learning; and others within our communities interested in Marketing Education. The benefits to our members are the following: State Standards Support and learning new techniques for accountability. Networking is also important to meet and get to know those in the know. Mentoring members are paired with other educators to assist in career advancement.
Professional Development opportunities are provided through the AME Conferences and professional development opportunities at the ACTE Summer Conference. conferences designed for marketing educators to be aware of the most current industry and educational trends.
Leadership Opportunities are available to instruction & experience. During this Lesson Sharing Opportunities one can tap into the knowledge and experience of other Marketing educators. AZME ensures that educators are provided opportunities to learn and improve their classroom instruction and provide alignment to real-world applications for students. During the AZME summer and winter conferences, the organization helps provide up-to-date knowledge and skills through industry tours and industry speakers.
The organization is led by volunteer educators that are still in the classroom and are passionate about their students and what they teach.
AZME promotes events and builds awareness at DECA events and through ADE. The Arizona Department of Education helps promote events by sharing information to all Marketing educators in Arizona. AZME is also working alongside ABEA to further its reach and impact on educators and students alike. They look at current trends and formulate a plan that will bring the updated information and trends back to educators. Since their two programs have some crossover, standard wise, it ensures that even more educators are positively impacted by what AZME provides.
As the current President of AZME, Ginger Liddell assures that the mission is to help facilitate the transfer of useful information from industry, ADE, and colleges to ensure that students are better prepared and aware of what is happening in the world of marketing and business.