2023 New CTE Teacher of the Year
---
Joseph Troxel – Paradise Valley Unified School District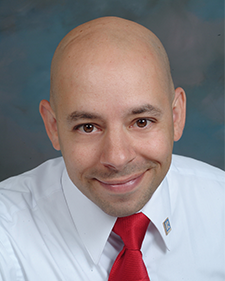 Joseph Troxel, a first year CTE Computer Science teacher, brings 15 years of industry experience to the CREST Computer Science program in the Paradise Valley USD. Joseph teaches 125 students in both Software and App Design and Network Security classes and is a mentor for two computer science clubs plus the SkillsUSA CTSO.
As a first-year teacher, Joseph attended the SkillsUSA Advisor Leadership Conference and right away started mentoring students for the state and regional competitions. Joseph embraces the CTE delivery framework, carefully sequencing standards-aligned integrated curriculum, embedding formative feedback daily in his classroom, and aligning summative assessments with industry credential exams (CompTIA A+, CompTIA Network +, and Certified Network Associate (CCNA) Certification). Using simulations, hands-on labs, and collaborative activities, students work both individually and collaboratively to master the content. Joseph's classes were part of the West-MEC total quality monitoring process during the 2022-23 school year, earning 100% in all six program standards for the Paradise Valley USD program.
Joseph used his fifteen years of IT industry knowledge and his out-of-school time to build a hands-on computer lab during the school year. He accomplished this by purchasing routers, switches, hubs, server racks, and other networking equipment using limited (and sometimes personal) funds to give his students real-world, work environment experience. with computer hardware and networking. His hands-on labs are engaging, and have made his classes a favorite among students, increasing demand and enrollment for his classes for next year! Achieving dual-enrollment instructor status in his first year of teaching, Joseph's students are earning college credit through dual enrollment via Rio Salado college.
Joseph is an advisor for three different school clubs and organizations: Computer Science club, Computer Science Honors Society, and SkillsUSA CTSO. He also volunteers when an opportunity arises to represent CREST CTE at the local middle and elementary schools, promoting our computer science CTE strands to future HS students. Joseph took twenty-seven students to the SkillsUSA regional in Phoenix this February where nine of them placed in four different categories including winning the top three places in the Information Technology Services category.
Joseph has taken PD classes at ACTEAZ, Pima JTED, and West-MEC and offered his services as the first beta tester for West-MEC's online courses when they first went into development back in 2021. A member of ACTEAZ since 2021, he looks forward to attending his first ACTEAZ Summer Conference this year.