2023 Executive Citation
---
Regan Mendina-Pellow – U.S. Army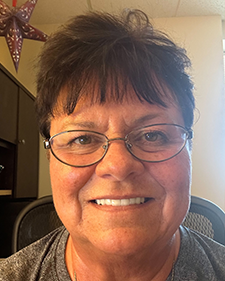 The ACTEAZ Executive Citation is Awarded to Regan Medina-Pellow, who has supported and provided leadership to ACTEAZ for over fourteen years. She has served our state association in many capacities and is completely deserving.
Regan has been an Exhibitor for the U. S. Army for many years at the ACTE Summer Conference and Mid-Winter. Regan has also invited U.S. Army members to also man the exhibitor booth so educators can receive more information regarding positions in the Army.
The U.S. Army has been a Sponsor for our ACTE Conference in Tucson for the conference bags for over a decade. Last year when expenses for the association increased, she was one of the sponsors that helped ACTEAZ with additional sponsorship dollars. Regan also worked with the Arizona U.S. Army to help us with the Presentation of Colors at our Awards Celebration.
She has always been so supportive in all her professional life, and she has always served in many capacities to benefit CTE and Education around the world.
Ms. Pellow-Medina also travels the state working with students on their ASVAB Scores to assist students to find their personal best careers. The ASVAB has changed to include test interpretation for students! Each student is taken through a session following the ASVAB that helps them understand their ASVAB scores, but also takes them through an interest inventory that directs them toward careers tailored to their own interest areas. Occupations are examined by students to create a unique portfolio or resume of information that they can follow up on at any time. Students will have access to the website for two years following registration.
Ms. Pellow has worked with numerous Career Technical Education Educators over many years to have the U.S. Army invite them to military schools and bases to personally visit and see firsthand all the different positions in the military that CTE contributes to their Army jobs. People come away with a much-enhanced perspective on how CTE Education and the Military have a vital link. The Army tours also have other administrators and teachers attend the tours and this has been a special opportunity for CTE to share more information with other educators.
In addition, she serves on committees when requested for Education to share information for community members. Regan Medina-Pellow is a person that is committed to service and education. She is a true supporter of Career Technical Education.