2023 CTE Administrator of the Year
---
Aaron Parsons – West-MEC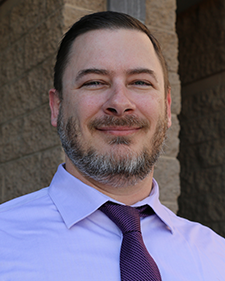 Dr. Aaron Parsons has been a leader in the delivery of High Quality CTE programs at West-MEC throughout his tenure. CTE programs have undergone successful reviews for both ADE CTE Monitoring and the West-MEC Total Quality Indictors process. In 2020-2021 all West-MEC Central Campus programs received 100% compliance and quality ratings exemplifying the elements of the ACTE High Quality Framework.
Dr. Parsons recognizes the importance of industry partners to ensure CTE success. He has worked with Honeywell, American Airlines, Palo Verde Nuclear Plant, and ADEQ in an advisory capacity with mutually beneficial relationships where businesses played a vital role in program delivery. Aaron's campus has been a site for many workforce development community events such as the Forum held with OEO in the fall of 2022.
Aaron is a champion for CTSO's at all levels. His belief is strong that CTSO's are integral to leadership, community development and overall employability. He has been steadfast in conveying this belief to teachers, helping them develop as advisors. This has resulted in high quality CTSO's across West-MEC as evidenced by award winners, state officers, service projects, social media campaigns, and student presentations.
Aaron was the champion of the new Environmental Sustainability program. This program affords students the opportunity to earn ADEQ Water Treatment Operator certifications. He facilitated the district process, collected data, advised vetting of the initial curriculum, and submitted the Local Occupational Program to ADE during the 19-20 school year Dr. Parsons worked to oversee a successful transition from in-person to virtual instruction for students and staff. Program retention rates were over 94%. 100% of students in Precision Machining and Avionics earned certifications during the Covid impacted school year. Dr. Parsons has been a champion of CTE initiatives in his roles at West-MEC.
Aaron mentored eight teachers across multiple CTE programs. He has participated in training and implementation of the Cognitive Coaching process through the Arizona K-12 center. Dr. Parsons seeks to improve the quality of partnerships and program delivery to ensure a cohesive environment on the West-MEC Southwest Campus.
Dr. Parsons served the CTE community through extensive work with ACTE, ACTEAZ, ATIEA, ACOVA, SkillsUSA, and Project Lead the Way (PLTW). Dr. Parsons has presented on Mentoring Best Practices and is committed to providing opportunities for new administrators.